Roll over image to zoom in
---
only $549.99 OFF | CODE: EAP100
Payment & Security
Payment methods
Your payment information is processed securely. We do not store credit card details nor have access to your credit card information.
Warranty Policy | Return Policy | Q&A

---
Security
Start Your Piano Journey with DDP-100 Digital Piano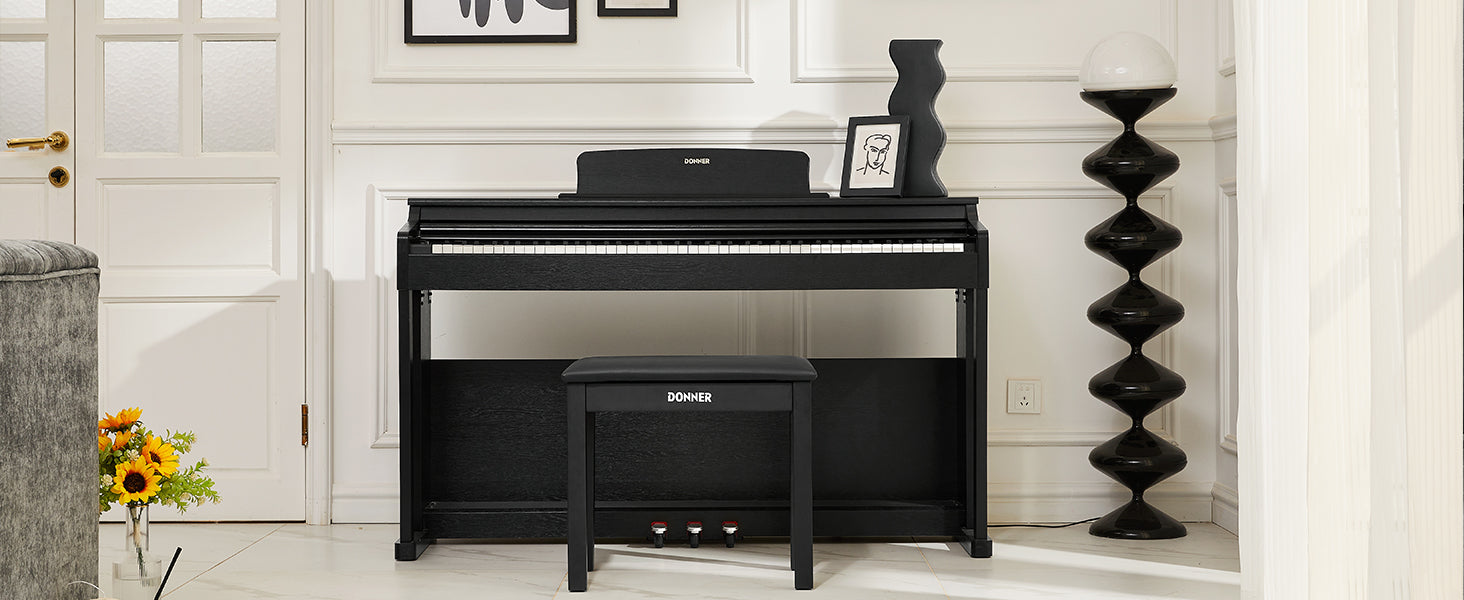 Donner DDP-100 Beginner Digital Piano with 88 full-size heavy hammer weighted keys
, which truly restores the real feel of the original piano, cultivates your interest in the piano, helps you train a good performance posture, and makes progress in the fastest time.
88 Key Full-Weighted
DDP100 digital piano can effectively train your ability to distinguish sound and develop music sense
The DDP-100 Digital Piano Sound Sample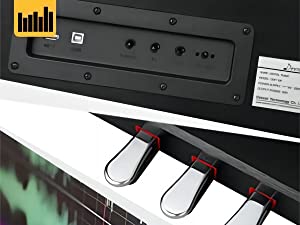 Grand Feel Pedal System
Soft-make the tone soft.
Sostenuto-decrease the damper effect by pressing pedal halfway.
Sustain-continue the previous tone.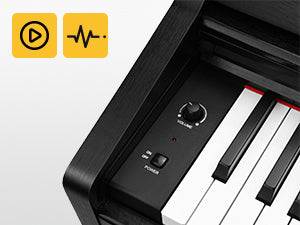 Simple Control Panel
Easy-used operation panel makes playing more smoother.
Input and play MP3, built-in amplifier, DDP-100 support external sound or headphones.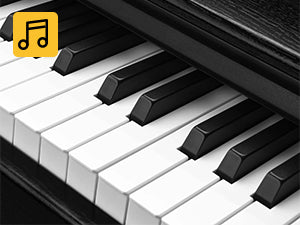 88 Full Weighted Keys
Smooth and intuitive motion with weighted keys. The weight of keys add a lot of nuance to your sound, help you develop musical sense and intonation.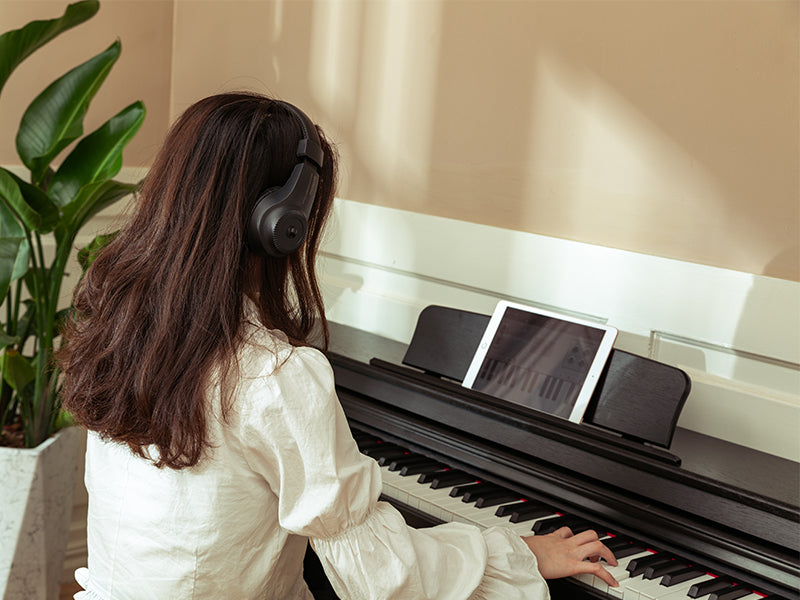 Headphone Mode
With 2 headphone jacks(1/4'') you can bypass speakers without disturbing others.
Both the French DREAM sound source solution and DONNER Custom Development GM Tone Library are faithfully reproduced with full 88-key sampling, establishing a new standard in affordable-priced digital piano tonal quality.
Maximum 128 polyphony reduce lost notes. Optimised sustain curve for playing notes with more emotion.
USB-MIDI Function
DDP-100 offers USB-MIDI connectivity. The USB transmission interface can be connected to the computer, ipad and so on. Through the installed music software on the computer, you can learn or play the keyboard to perform, compose and store the music. The edited music and buit-in accompaniment in the music software can be played by the digital piano which is connected to the software or by the accompanied music.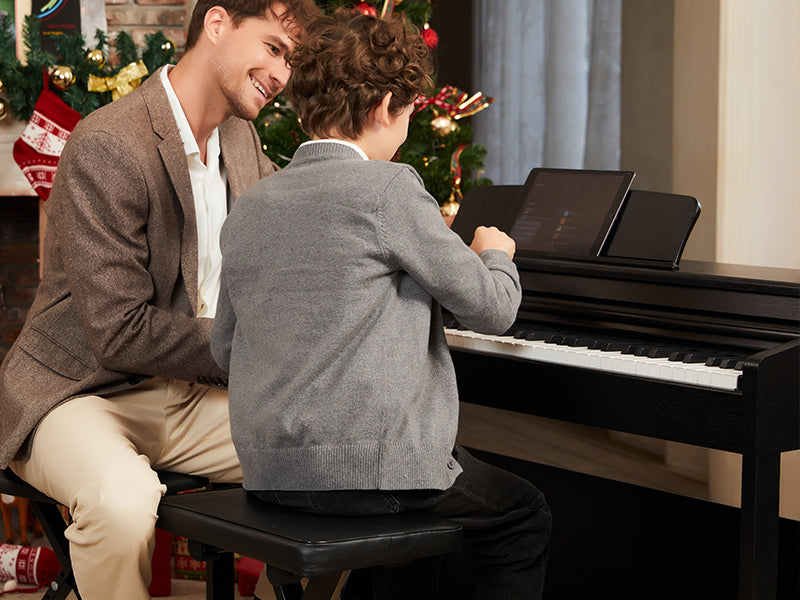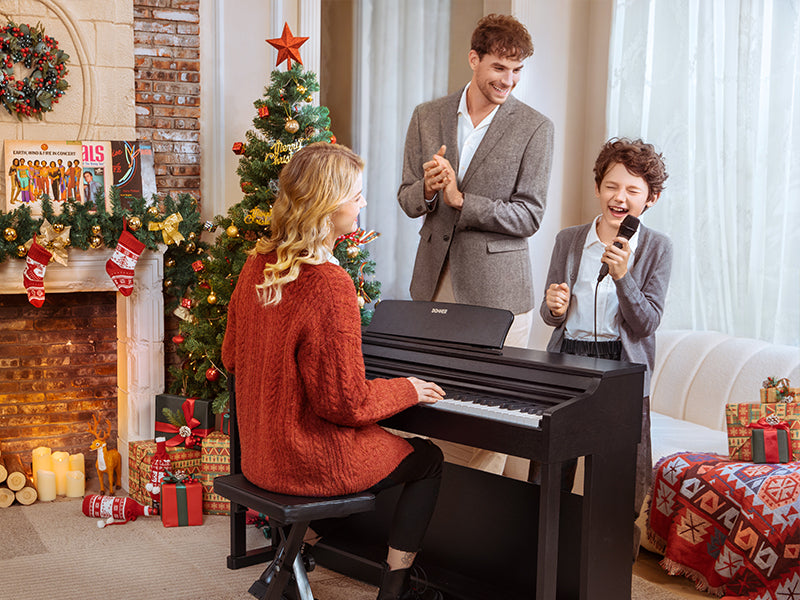 Package Included:
Digital piano X 1
Power Adapter X 1
Pedal Plate Bridge X 1
Left and Right Supporting Plate X 1
Left and Right Supporting Column X 2
Black Fixed Plate X 1
Spile X 8
Screw X 16
Specification
Power Adapter:12V/DC ,3A
Piano Size : 53.89 x 15.66 x 32.99 inch, 40.6kg/89.5 lbs
Key Material: plastic & ABS
Body Material: Medium Density Fiberboard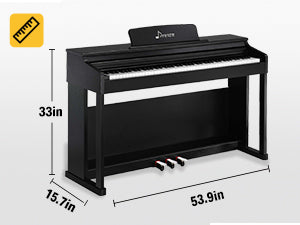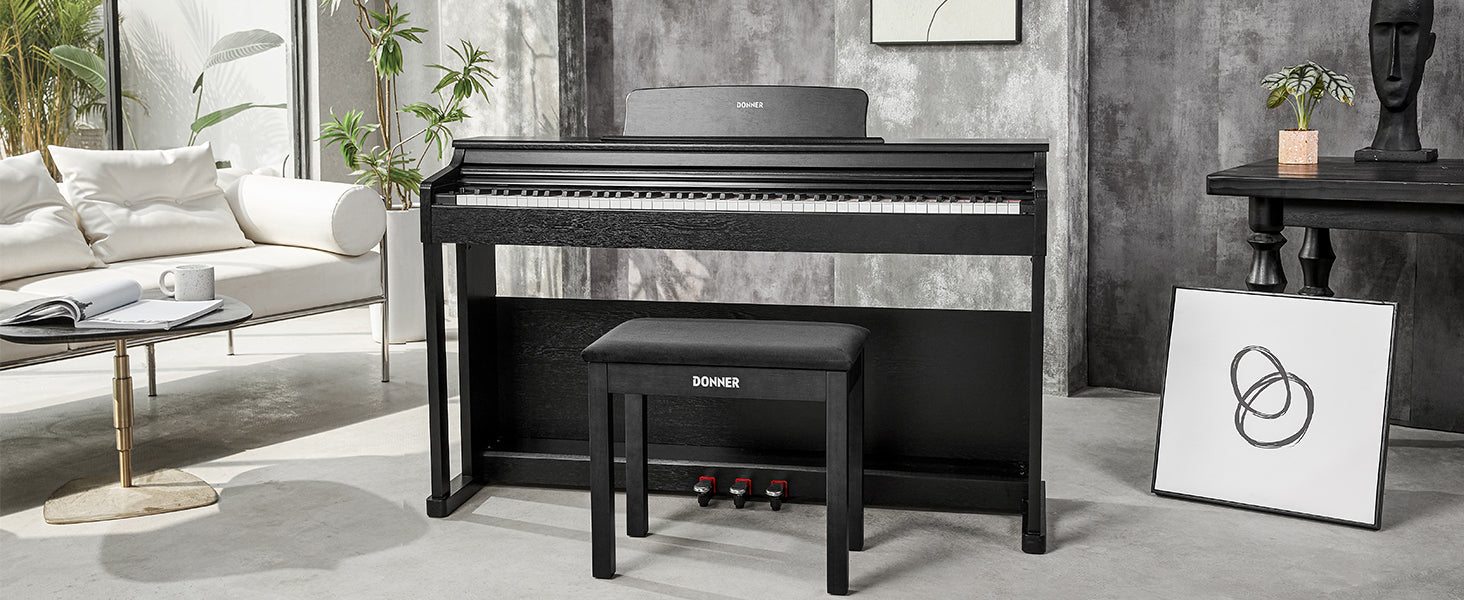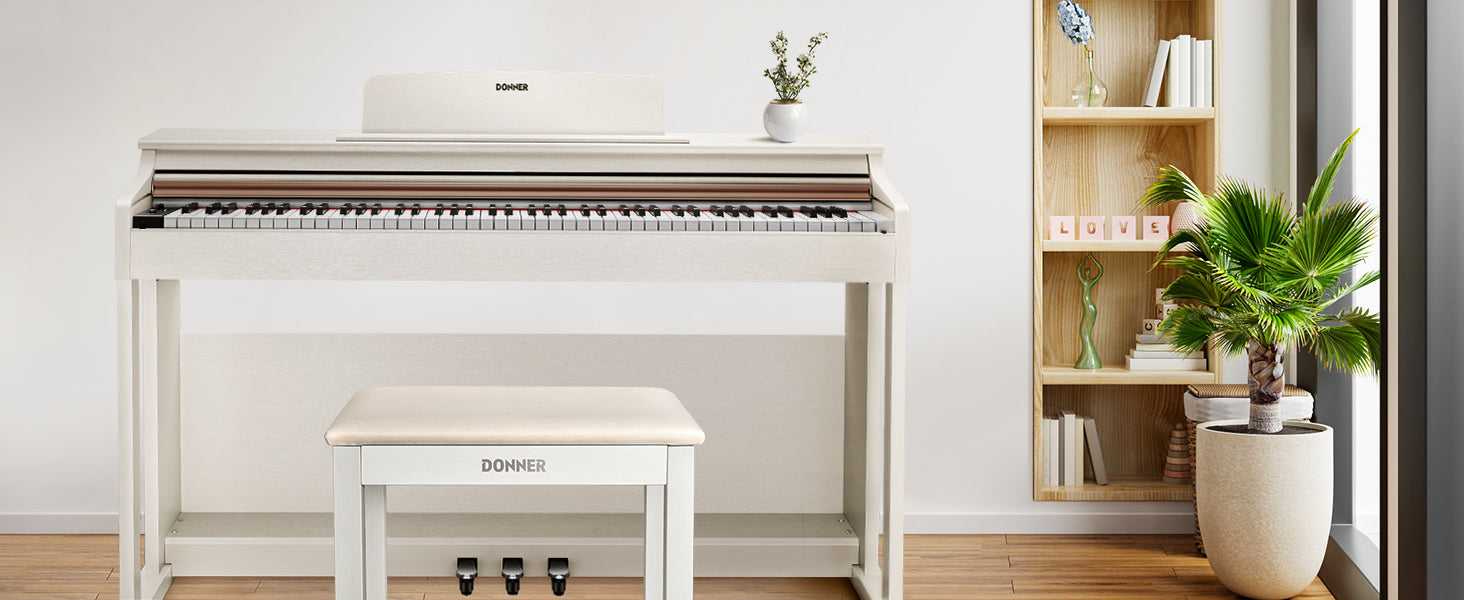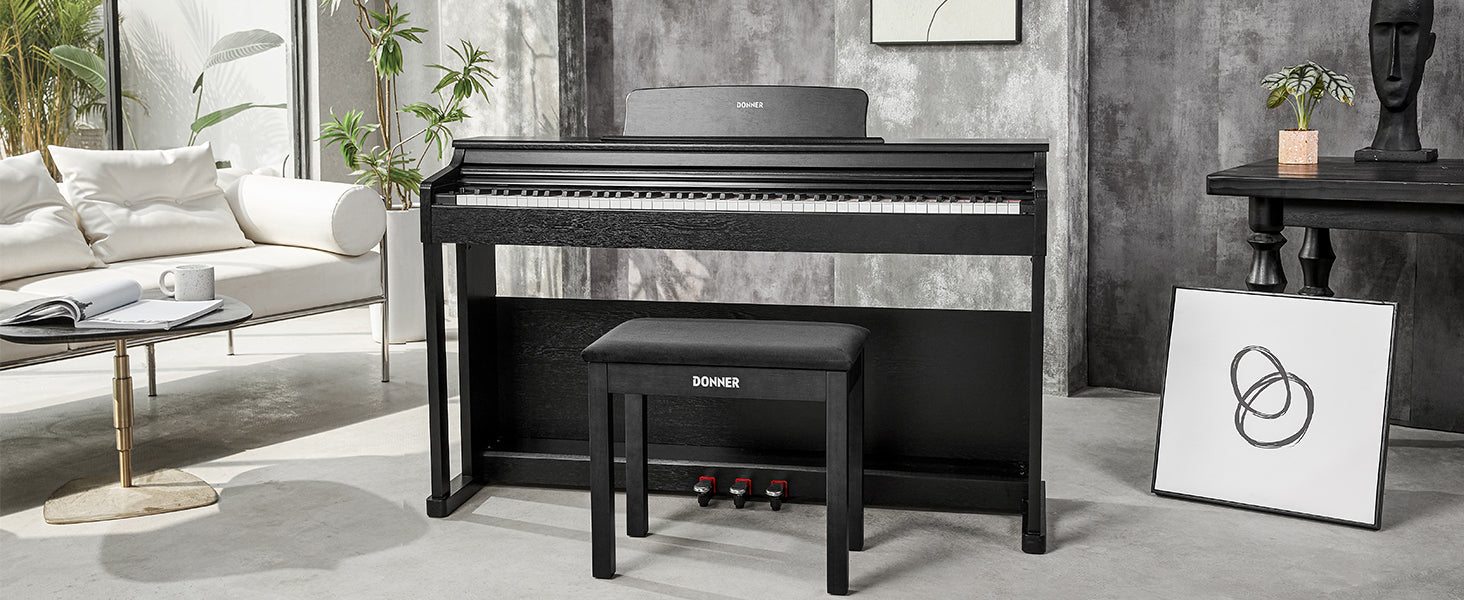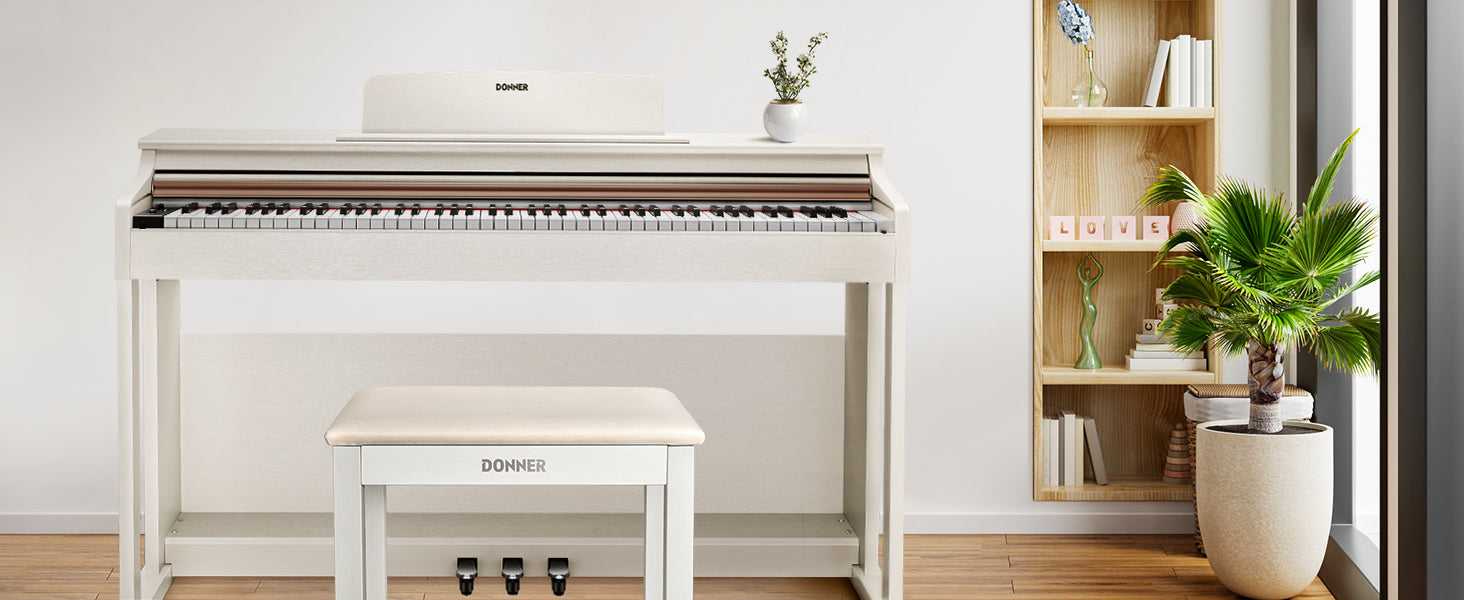 what's the difference between the black one and white?

Hi, thanks for getting in touch with us. The only difference between them is the color. The other specifications are the same.

What headphones fit this piano ? and where do they plug in ?

Hi, thanks for getting in touch with us.
Headphones with 6.35 connectors can be used.
The headphone jack is under the keyboard on the left hand end of the piano. You don't need to pull the piano away from the wall.
Hope this helps.

Can I put my piano lamp on it?

Hi, thanks for getting in touch with us.
The top width is about 25cm (9.84in), and the depth is about 7 1/2 inches.

Can I plug the piano into my Mac and use it in garage band app?

Hi, this piano may be pluged and be used as a piano midi for your Mac. You will need to buy the chord for that seperately though.

What is the difference between the 100 and the 300

Hi, Thanks for your interest.
The voices: DDP-100 only has voice of acoustics grand piano, and DDP-300 has 10 tones & 15 Demo Songs.
Speakers: DDP-100: 25W *2; DPP-300: 20W x 2(tweeter), 10W x 2(woofer).
Bluetooth: DDP-100 does not have the Bluethooth function while DDP-300 is equipped.

In comparison, the DDP-100 is more economical, while the DDP-300 has more features. You can choose the one you like.


Can I use headphone for practice or Bluetooth headset on this piano?

Hi, there are devices that you can attach to any rechargeable aux input and works to connect to any Bluetooth device. You can search "Bluetooth Aux Adapter", "Bluetooth Receiver", or "Bluetooth transmitter". However, you will need to buy a stereo jack plug to connect that bluetooth adapter to the piano.