Mother's Day is just around the corner, and it's the perfect opportunity to show your mom how much you appreciate her. Choosing a Mother's Day gift can be challenging, but with some thoughtful consideration, you can find the perfect gift that she will love.
Music is one of the best ways to express your feelings. If your mother loves music, then giving her a musical instrument as gift could be the perfect way to make her day. Learning to play an instrument can promote creativity, reduce stress, improve cognitive function, and foster a sense of community. It is also an activity that can be enjoyed for a lifetime, and can be shared with family and friends. By giving your mother a musical instrument, you are giving her the gift of a new hobby, a new challenge, and a new way to express herself.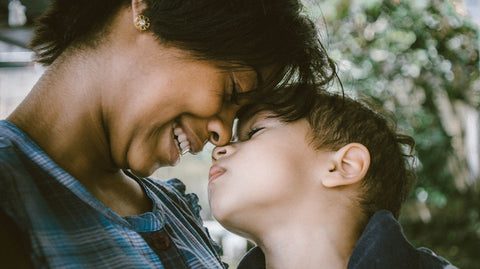 In this blog, we will discuss some musical instrument gift ideas for Mother's Day that she will love.
Digital piano is a wonderful gift for mothers
Music is therapeutic, especially for mothers who may need to unwind after a long day. A digital piano can have a calming effect, helping mothers to de-stress and improve their overall well-being.
A wooden digital piano is a thoughtful and personalized gift. It not only serves a practical purpose but also shows that you care about your mother's interests and passions. Such a gift is likely to be cherished for years to come.
The digital piano is a long-lasting gift that your mother can enjoy for years to come. Its durability ensures that it will continue to bring joy and entertainment long after Mother's Day has passed.
The wooden digital piano can serve as a beautiful piece of home decor. Wooden pianos add elegance and sophistication to any room and can enhance the overall aesthetic of a space. They can also serve as a focal point for the room and create a warm and inviting atmosphere. With their timeless design, wooden digital pianos can blend well with any interior style, whether traditional or modern. By gifting a wooden digital piano, you are not only giving your mother a beautiful instrument to play but also a statement piece that can elevate the look of her home.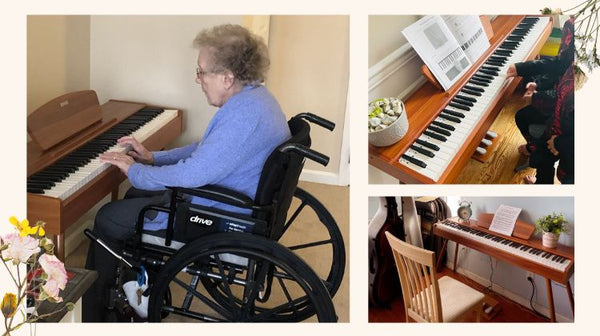 To mothers who are good at music, they can play it well to express their feelings anytime and anywhere.

Provides an authentic playing experience - Wooden digital pianos are designed to provide an authentic playing experience that closely mimics the feel of an acoustic piano. This means that your mother will be able to practice and perform on a high-quality instrument that produces beautiful sound.
Offers versatility - Digital pianos come with a variety of features and functions, including different sound effects and instrument voices, as well as built-in learning and practice tools. This versatility means that mothers of all levels, from beginners to experienced pianists, can enjoy playing and practicing on a digital piano.

To mothers who can not play it well, digital piano is also a ideal gift.
Encourage new hobbies - Introducing a new hobby to someone can be a great way to open up new opportunities for personal growth and self-expression. A wooden digital piano can provide an excellent opportunity for your mother to explore her creative side and develop new skills.
Enhance cognitive function - Studies have shown that playing the piano can enhance cognitive function, including improved memory, concentration, and problem-solving skills. These benefits can have a significant impact on your mother's overall mental and emotional well-being.
Promote stress relief - Playing music can be an effective way to relieve stress and anxiety, and it can help your mother find a sense of calm and relaxation in her daily routine. The soothing sound of a wooden digital piano can provide an ideal way for your mother to unwind and relax after a long day.
Foster family bonding - A wooden digital piano can provide a unique opportunity for family bonding, whether it's through singing along to songs or learning to play the piano together. It can also create a sense of tradition and heritage that can be passed down through generations.
Improve confidence - Learning to play the piano can be a challenging but rewarding experience, and it can provide a sense of accomplishment and confidence that can positively impact other areas of your mother's life.
Recommendations:
Here are the top pick digital pianos for women in 2022 & 2023. They're not only a professional digital piano with 88 key full size weighted keyboard, but the unique design is also attractive.
Donner is holding a Mother's Day promotion from May 4 to May 14, Save $60 over $514 for all products except for the DDP-80.
As the best-seller, the DDP-80 wooden digital piano is now making a big price cut to $619.99, coupon codes are now temporarily invalid. The first order 5% off code <newdonner> is still active and it's only $588.99 for new customers!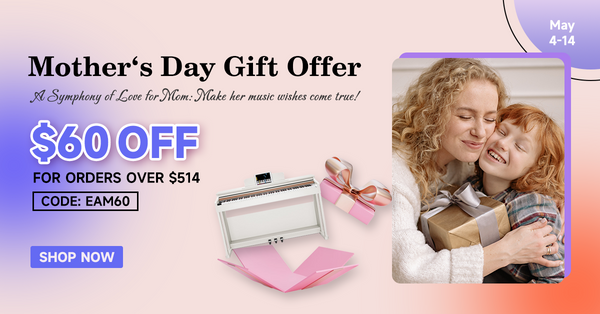 1. DDP-80 Wooden Digital Piano <View>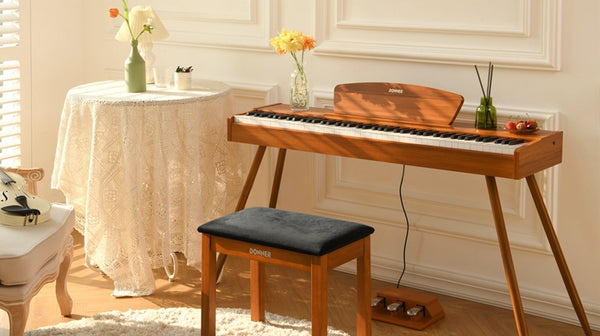 Full-size 88-key weighted keyboard
Environmental friendly wooden design
Dual 20w stereo speaker system
Minimalistic design with convenient installation & place saving

2. DDP-200 Professional Wooden Digital Piano <View>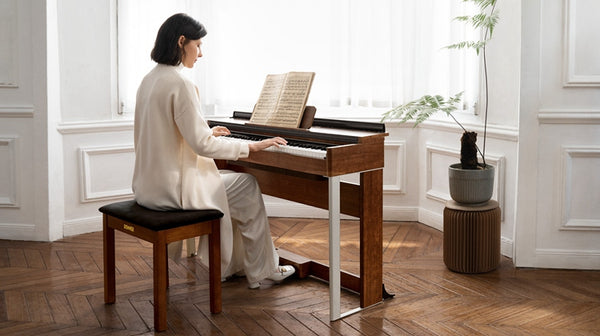 Patented dynamic graded hammer action weighted keyboard
New "3d" sound system
1.3-inch LCD screen for easy changing effects
Magnetic design piano rack
Environmental friendly wooden design

3. DDP-400 Professional Upright Digital Piano <View>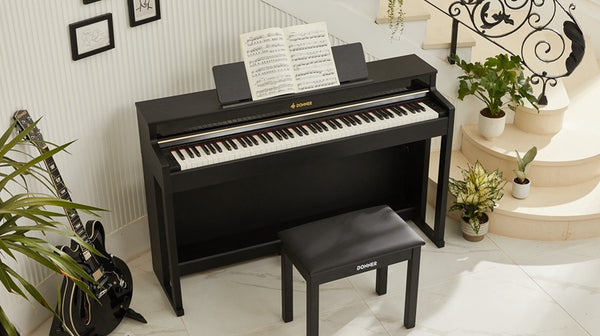 Progressive hammer action weighted keyboard
Extended speaker cabinet for richer harmonics & stronger resonance
128 voice polyphony, 138 tones, 100 rhythm styles, and 20 demo songs
Sleek streamlined design

4. DDP-100 Weighted Upright Digital Piano <View>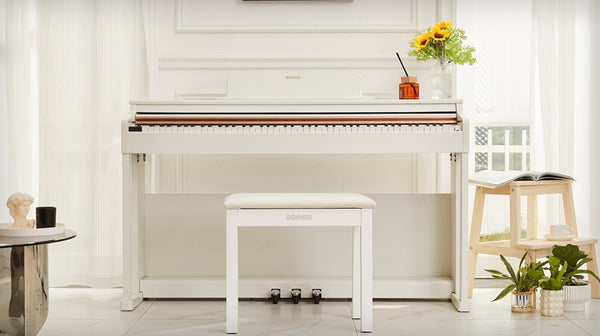 88-key hammer action weighted keyboard
Awm sampling French DREAM sound source
Best beginner digital piano

5. SE-1 Portable Digital Piano <View>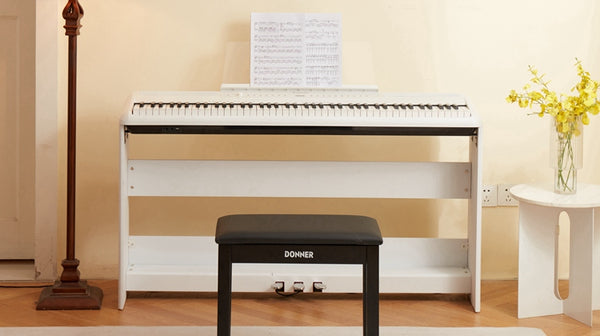 Graded hammer-action weighted keyboard
Multi-function panel - also be a portable arranger keyboard
200 tones,128 polyphonies, 100 rhythms, and 60 demo song