Father's Day is a wonderful opportunity to show appreciation for the music-loving dads in our lives. If your dad has a passion for music, surprising him with a thoughtful gift that complements his musical journey is a fantastic way to celebrate him. In this article, we present a curated selection of gift recommendations for Father's Day. These gifts are sure to bring joy to your dad and enhance his musical experiences.
🎸Traveling Silent Acoustic Guitar:
Celebrate Father's Day with the perfect gift for music-loving dads: HUSH-I traveling silent acoustic guitar! The HUSH-I features a headless, compact design that enables portability without sacrificing sound quality. The Silent function allows practicing anywhere without disturbing others. Its large battery ensures long hours of playing on the go, and the detachable and lightweight design makes it easy to pack and travel. Priced at just $299, HUSH-I is a fantastic choice for fathers who want to play their favorite tunes anywhere. Give the gift of music this Father's Day with this travel silent guitar that's sure to impress!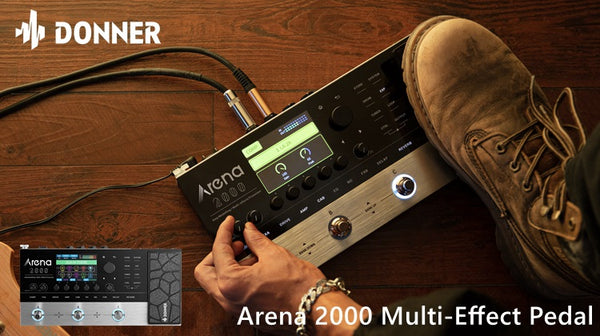 🪄Multi-Effect Pedal:
If your father likes to experiment with different guitar sounds and effects, the Arena 2000 Multi-Effects Pedal and AMP can be a game changer. With 278 effect types, including classic analog and amp/box options, Arena 2000 offers endless creative possibilities. The user-friendly design features a single knob and footswitch, while the 3.5-inch color screen ensures easy navigation. From the bedroom to the stage, the Arena 2000 effortlessly transitions through a variety of input/output and Cab Sim output options. Priced for value and convenience, it's the perfect gift for any guitar lover. Make this Father's Day memorable with a gift that will take his guitar playing to new heights.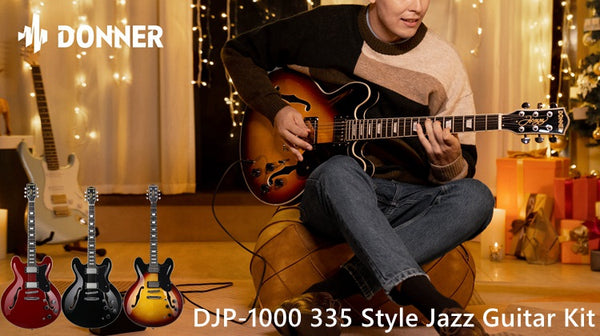 🖤335 Style Jazz Guitar:
For fathers who appreciate the smooth and timeless sound of jazz, the DJP-1000 335-style jazz guitar is a terrific gift. Its classic semi-hollow body design offers a rich, warm tone that's perfect for jazz. Equipped with dual H pickups, the DJP-1000 guitar captures the true sound and essence of jazz. Priced at an affordable $379.99, it offers exceptional value for a quality instrument. Whether he's a seasoned jazz player or an aspiring learner, this DJP-1000 guitar will inspire his musical creativity and provide endless enjoyment. Give your father the gift he deserves this Father's Day with this exquisite DJP-1000 jazz guitar.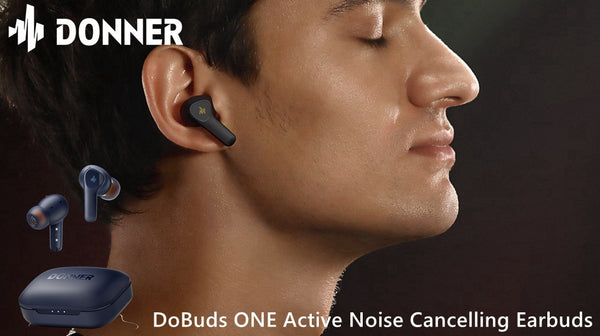 🎧Wireless ANC Headphones:
Wireless ANC earbuds are a great gift for the father who likes to listen to music on the go or craves an immersive audio experience. With 30 dB active noise cancellation technology, the truly wireless DoBuds ONE provides a serene listening experience by blocking out background noise. An impressive 32 hours of standby time (8 hours with earbuds and an additional 24 hours with the charging case) ensures continuous musical enjoyment. The ambient noise cancellation feature improves call quality even in noisy environments. Available in four stylish colors - black, blue, green, and white - the DoBuds ONE combine function with style. For only $34.99, treat your father to the gift of pure audio bliss this Father's Day.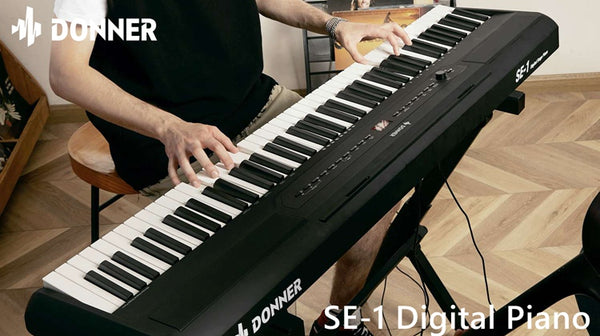 🎹Portable Digital Piano:
For dads who enjoy playing the piano and desire the flexibility to practice or perform anywhere, a lightweight portable digital piano is an excellent gift choice. With its professional 88-key weighted keyboard and graded hammer-action, SE-1 digital piano provides an authentic playing experience. Perfect for beginners and experienced players, SE-1 doubles as a beginner arranger keyboard, offering endless creative possibilities. The MIDI in and out connectivity allows for seamless integration with other devices, while its "one-man band" functionality enables solo performances. With 200 voices, 128-note polyphony, 100 rhythms, 60 demo songs, and four reverb types, SE-1 portable digital piano is the perfect gift for your dad's musical journey.
This Father's Day, surprise your music-loving father with a gift that will enhance his musical journey. Whether it's a silent acoustic guitar, a multi-effects pedal, a 335-style jazz guitar, ANC earbuds, or a portable digital piano, these gifts are sure to bring a smile to his face. Consider his musical preferences and needs when choosing the perfect gift, and celebrate his love of music by providing him with the tools to inspire and enhance his musical experience. Your thoughtful gesture will make this Father's Day truly unforgettable.